Sonia Gonzalez will put her experience and local knowledge to work for you when looking for someone to help you buy, sell or manage your property. Sonia offers a diverse background of experience, training and achievements in Real Estate Sales, Contract Negotiations, Client Relations, Property and Business Management.
As licensed Real Estate Associate for more than 16 years and member of the Million Dollar Club, Sonia's strong negotiating and closing skills ease her clients from contract to closing. With the ever changing status of today's real estate and financial markets, Sonia knows it takes constant diligence, training and an understanding of the marketplace to provide her clients with the information they need to make the best possible decision. She consistently attends educational seminars to maintain knowledge of current market conditions and innovative sales techniques. As a persuasive communicator, bilingual in Spanish and English, Sonia easily interacts with individuals of diverse cultural backgrounds and consistently excels in customer satisfaction in real estate transactions. Sonia always maintains close interaction with both Seller and Buyer through the entire real estate process. Given her experience in multi-cultural backgrounds, client relations and problem solving skills, Sonia will ensure that your purchase or sale is seamless and stress free.
Additionally, with Sonia's background and training in Property Management, her strengths include excellent leadership, organizational, interpersonal and problem solving skills. Being a results-driven professional and having earned awards for Top Producing Management, Sonia is adept at handling multiple tasks, keeping organized and staying focused. Her property management background includes, but is not limited to Assistant Property Manager, Marketing and Leasing Assistant and Community Manager. As an Assistant Property Manager, she enjoys guiding tours and assisting prospective tenants to make the decision to move to the community. As a Marketing and Leasing Assistant, Sonia has maintained aggressive lease renewal programs and generated new apartment leases from various website sources. As a Community Manager, she has been solely responsible for managing multiple properties, including all facets of leasing, collections, maintenance and customer service. In addition, she has collected rents, made bank deposits, overseen turnover and delinquency rates, met all collection goals, and reduced vacancies. Sonia resolves tenant issues and concerns in a timely and efficient manner and is at her best when working on complex and difficult issues, simplifying them into a clear and simple format.
Sonia gets great satisfaction out of being able to put her energy into helping people make the best decisions with real estate investments. She is hardworking, skilled, knowledgeable, and committed to representing you in every aspect of your real estate transaction, whether you are looking to buy, sell or need a professional to manage your real estate.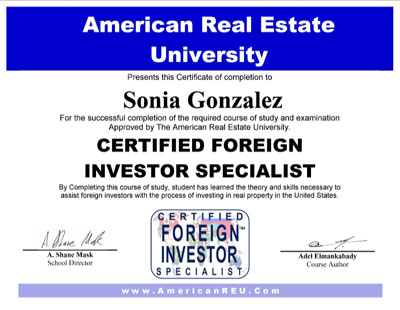 En los negocios de Bienes Raices. Si esta comprando siempre quiere buscar los expertos , la persona que nos lleve en esa trayectoria , con Profesionalismo,siempre trabajando en nuestro interes, en nuestro beneficio, en encontrar la major vivienda , con el precio justo y a nuetras medidas.Sonia Gonzalez le ofrece ese servicio, un servicio honesto.Sonia Gonzalez le busca el major precio ,Sonia le busca que el gobierno lo ayude con grants para que invierta con la menor cantidad posible de acuerdo con su credito.
Si usted esta vendiendo su casa Sonia Gonzalez coloca su casa a la mayor vista de todo clase de compradores en el internet , en blogs , en Face Book , en Trulia , su casa sera vista por mas de 500.000 millones de visitadores en las paginas de internet.
Sonia Gonzalez tiene un grupo de asistentes que trabajan en este aspecto para darle mayor vista de su casa en todos los sitios del internet a diario.Si usted esta vendiendo su casa , Sonia Gonzalez le ayuda no solo a conseguirle el mejor procedimiento que esta a su beneficio sin estres y la mejor ganancia para usted como vendedor.Sonia Gonzalez le da ideas de como hacer que su casa muestre los mejores aspectos arquitectonicos y con un minimo casi zero de gasto.Como decorar la casa que atraiga diferentes typos de compradores .Para la venta de Propiedad Raiz hay tecnicas de mercadeo Sonia Gonzalez le ayuda con este aspecto.
En el aspect de manejo de Propiedades Sonia Gonzalez tiene una experiencia grande y diversificada.Estando en todos los aspectos , le puede manejar sus Propiedades, hacerle todo lo de contabilidad, generar un aumento en sus ganacias usando las mejores tecnicas con las personas que rentan su Propiedad:
Resolviendo los problemas diarios. Organizacion,Hablando dos idiomas : Ingles y Espanol para hablar con personas de diferentes nacionalidades.
Renovando los contratos para incrementar Productividad.Dandole servicio al cliente para tener mas clients satisfechos.
Haciendo Mercadeo para tener una una renta que le deje mas productividad como vendedor o inversionista.En todos los web sites para alcanzar el maximo de personas interesadas en rentar, y que renten.Trabajar con los que le arreglan la propiedad consiguiendo los precios mas economicos , para no tener gastos innecesarios.
Sonia Gonzalez tiene las mejores habilidades para vender su casa , ayudarlo a comprar su casa o ayudarlo a invertir en Propiedad Raiz y rentas o invertir teniendo mas ganancias.